Fill out the enquiry form to book an appointment and get the price list.
Non-Surgical Rhinoplasy / Nose Job
What is the Non-Surgical Rhinoplasty / Nose Job
Non-surgical rhinoplasty or nose job is a non-invasive treatment usually done by fillers and botulinum toxin to improve the shape of the nose.
Non-surgical rhinoplasty can be a great alternative to the actual rhinoplasty surgery if you are worried about the surgery or are not ready for the surgery. You can also trial the surgery with fillers to see how your nose will look like after the surgery.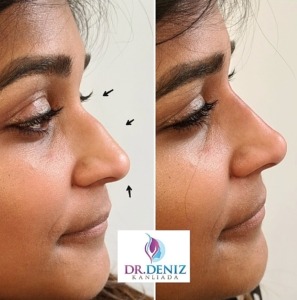 With the non-surgical rhinoplasty, you can straighten your hump, lift your tip of the nose, define your nose, create more pointed tip, correct irregularities and asymmetries after a nasal trauma or a rhinoplasty surgery.
You can also narrow your nostrils if you have flaring especially when talking or smiling.
Treatment is done in the doctor's office in 5-10 mins and results are immediate and lasts up to 2 years depending on your lifestyle and metabolism.
Non-surgical nose job is done with needles and minimum pain and swelling is expected during the treatment.
There is no downtime, and you can resume your routine life immediately after the treatment.
After care includes no gym or exercises for 3 days and avoiding sauna, steam room and other facial treatments for 2 weeks.
Advantages of Non-Surgical Rhinoplasty
Can be done with no scarring
Done in 10 mins with no downtime
Immediate results
Reversible with hyalase injections (a medication to reverse the filler)
Done by an expert surgeon Dr Deniz Kanliada
Frequently Asked Questions
How do I know if I am suitable for non-surgical rhinoplasty?

You can send your pictures to us to find out if you will benefit from the treatment
If you have a hump/bump and you want to straighten your nasal bridge
If you have a droopy tip and you want to lift the tip of your nose
If you have a round nose and you want to make your tip of the nose more pointed
If your nostrils are getting wider when you smile
If the tip of your nose is drooping when you are talking or smiling
If you had a surgical rhinoplasty and you want to improve your results

Do I need to have any bandages on my nose after the non-surgical rhinoplasty?

Non-surgical rhinoplasty is done with needles and you do not need any bandages after the treatment

Can I have the treatment if I have a piercing?

Yes, piercing is not a problem during a non-surgical rhinoplasty, and you can keep it.

Can I have a non-surgical rhinoplasty treatment if I had a rhinoplasty surgery?

Yes, non-surgical rhinoplasty can improve irregularities caused by the surgery
It can improve the results after a surgery e.g. tip can be lifted more, crooked nose can be straightened with fillers, if there is a bump left it can be straightened with fillers.

Do I need to erase my fillers if I am planning to have a rhinoplasty surgery?

Dr Deniz is extremely experienced with both procedures, so you do not need to erase your fillers before your surgery.
If you are planning your surgery with another doctor consult it to your surgeon.

Can my fillers move to other areas?

With the right injection techniques fillers can not move to the other areas. Dr Deniz is a master injector, and he recommends that non-surgical rhinoplasty must be done by an experienced injector to avoid complications.

What if do not like my results?

Results are reversible with another medicine called hyalase which needs to be injected in the areas of fillers.

Can I have nose fillers if I am pregnant or breastfeeding?

No, you are not allowed to have any treatment during your pregnancy and breastfeeding period.