Fill out the enquiry form to book an appointment and get the price list.
Mini facelift is a modified version of a traditional facelift. In the "mini" version, we use small incisions around your hairline, hidden in the creases, to lift the lower half of your face and neck to help correcting and resecting sagging/excess skin on the lower face and neck.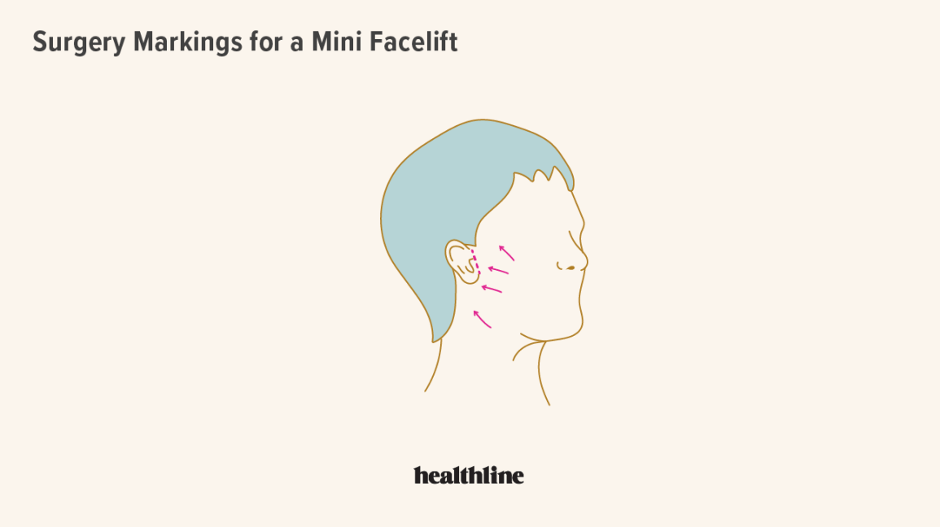 A mini facelift can be performed under local anaesthesia, sedation, or general anaesthesia.
Mini lift is usually combined with mini fat transfer from your own fat to support the lifting for a longer time and and also this is because mini facelifts mainly target the lower half of your face — mainly your jawline, neck and cheeks so with the help of fat injections other areas like cheeks, deep lines can be lifted alongside the lower face lift.
Comparing to the traditional face lift, in the mini face lift scar is considerably smaller, dissection of the tissues is limited as a result recovery time is considerably shorter. Severe side effects and complications like bleeding, haematoma, excess swelling, or nerve damage is not as common as traditional face lift.
Preparation
Your surgeon will explain you every details and consent for the procedure during your consultation.
You should avoid taking ibuprofen and similar painkillers, green teas, herbal teas, multivitamins and stop smoking 7 days before and after your surgery.
Procedure
Mini face lift procedure takes place in an operating theatre and done under local anaesthesia or sedation in around 2-3 hours. After the surgery usually elastic bandages are applied for a week. Sutures are self-absorbable and will be dissolved in 2 weeks' time.
Recovery
You will stay in the recovery room for couple of hours and then sent to rest at your home.
Pain is expected in couple of days and swelling is expected to resolve in 2 weeks. Minor bleeding through the sutures is expected for 2 days. Your surgeon will remove the bandages and check the wound 7 days after the procedure.
Aftercare
You will need to sleep straight and upright for 3-5 days and apply ice compress couple of times a day for 10 mins.
Paracetamol is recommended first 3 days and antibiotics will be prescribed by your surgeon after the procedure.
7 days resting is recommended for avoiding hot bath and physical exercises. Patients need to avoid drinking herbal teas, green teas, and multivitamins.
Overall, it takes several weeks to fully recover from a mini facelift. After this point, you should not need any follow-up surgeries, unless complications developed during your recovery.
Frequently asked questions
At what age we can have the mini facelift surgery?
Mini facelift surgery is usually recommended after age 35 depending on the severity of excess skin and sagging on the lower face and neck
How bad is the scarring from Mini facelift surgery?
Mini facelift surgery scar is hidden in the natural crease in front of the earlobe and it heals very nicely so scar is usually minimum. If you are prone to develop hypertrophic scars or keloids, you may need to have some extra medications, injections on the scar and apply some cream to minimise the scarring.
How much lifting I should expect from mini facelift surgery?
Although it depends on the severity of sagging, Mini facelift surgery is designed to improve your excess and saggy skin on the lower face and once its done it provides a noticeable improvement on the lower face and neck.
Do I need to stay in the hospital after the procedure?
Mini facelift surgery does not need a hospital stay after the procedure. You will rest in our recovery room for 2-3 hours and then you will be sent to rest at your home until your follow up in 7 days.
What happens if my results are not symmetrical?
Although we measure and plan the surgery symmetrically, everyone's face anatomy is different and not perfectly symmetric in both sides, your sleeping position, mimics, anatomy, lifestyle can affect the results.
Surgery results will settle in 4-6 months and minimal problems can be corrected with additional threads, fat transfer or other non-surgical treatments.